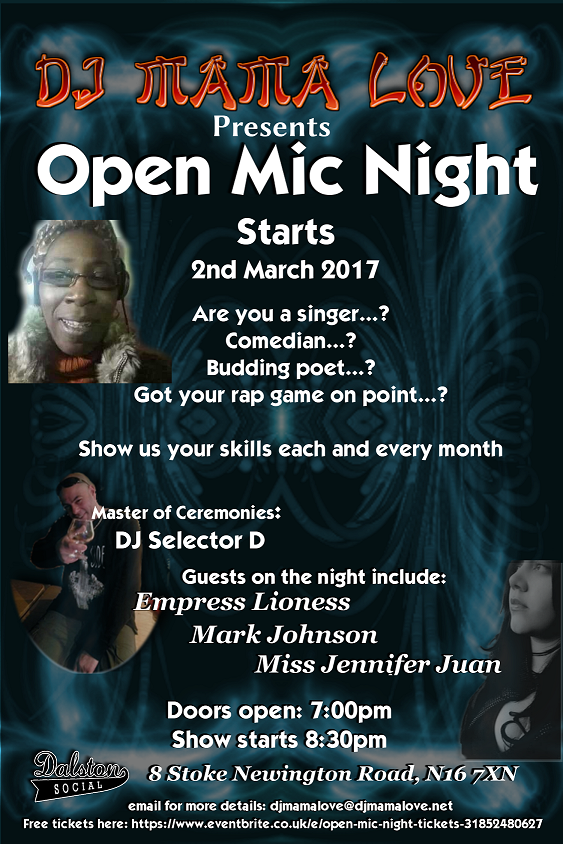 Finally. Finally I'm able to give back. I'm able to give back to YOU. You the most important people - my community.
Many years ago - as Secretary of the PTA - I used to teach, voluntarily, at a local primary school. I helped the children put on a couple of performances. I can remember the feeling of satisfaction watching those young, and talented children make decisions about the topics they were to use, how they would present and ultimately perform their projects.
It's taken me a few years to get the opportunity to do something as fulfilling as working with the children at school, but it's finally, FINALLY happened. From 2nd March, 2017, I'll be hosting a monthly Open Mic Night.
This event is to showcase talent from local and surrounding communities. In a borough of highly talented and gifted individuals, I would love that many could witness these stars twinkle on their way to possible superstardom. It's a wonderful feeling. It really does feel good to know that you've been a part of helping others achieve their dreams and goals. Particularly, in an atmosphere that's not so accommodating. You just can't beat it!
It's also a great feeling after working hard on a collection of poems, or putting together chords and notes, or even trying to think up a killer punch line, to have a whole room collapsed in laughter, applaud your song, and snap fingers to your cypher. I'm telling you, there's nothing like it!
There will be guest appearances from local poet Mark Johnson, motivational lyricist Empress Lioness and the vivacious Miss Jennifer Juan on the night to help you get fired up. Along with the jovial DJ Selector D as our Master of Ceremonies, it looks to be a great night.
So here's the deal. If you think you have what it takes, why not try your skills in front of a warm audience at Dalston Social? It's a warm atmosphere with fantastic staff, and they sell great liquor. They also offer a FREE PIZZA when you buy TWO alcoholic drinks. Having a birthday or celebration? Let them know at the bar. They do great "Jaeger Bombs" at a good price. You can't ask for more. To enter, send your links and bios to me, DJ Mama Love, here. I'd be glad to have you show off what you've got.
So make sure that you join us at Dalston Social, 8 Stoke Newington Rd, London, N16 7XN, when "Opportunity Knocks" for the next star with that "X-Factor" that gives them "The Voice" to be heard. Register for your FREE ticket at https://www.eventbrite.co.uk/e/open-mic-night-tickets-31852480627 to guarantee yourself entry. Oh! And don't forget to spread the word far and wide. This event will be the beginning of BIG things. Do you really want to miss out?